KS Power is an organization committed to conveying quality and reasonableness through cutting-edge Solar Products and systems. Our worldwide reach permits us to present to you the best solar products in the business consistently. We are an intuitive organization, driven by energy, inspiration, and responsiveness to our customers. What's more, we have been conveying private and business heavenly bodies around in India. We've been at the cutting edge of water heating technology for over years. As an innovator in the field, we have no goal of stopping.
The cost to make hot water is the biggest utility expense for a  household family in India. The normal is about 20% of family energy for simply homegrown hot water (cooking, cleaning, washing). It goes up to 50% if hot water is also used for heating & other.  Be that as it may, presently this is not any more an issue these days! We have better choice, which is Solar Water Heater for this we don't have to depend on high cost electricity.
Solar water heaters utilize the sun  energy from the sun to create heat (not electricity) which would then be able to be utilized to hot water for showering, space warming, modern cycles or even sunlight based cooling. By and large, in the event that you introduce a solar water heater, your water heating bills should drop 50% to 80%. Additionally, on the grounds that the sun is free, you're free from future fuel shortage and price hikes.
Assuming you need to lessen electricity utilization, the measure of electricity you utilize every month, and setting aside cash, buying a solar water heater is an incredible spot to begin. It is an extraordinary method to decrease the electricity bills related with hot water by using sunlight for use in homes, pools, sporting vehicles, and even boats.  A solar water heating system can save up to 1000 units of electricity per year, for each 100 liters/day of solar water heating capacity. 
Rooftop solar panels rely on the ability of the solar cells to harness the energy of the sun and convert it to electricity.
Solar Water Heater Working
Solar water heaters come in a variety of designs. But all have the same water heater working method. A solar water heater heats the water by using the sunlight & it mainly consists of Thermal Panel, Storage Tank, Circulating Pump. When thermal panel or collector absorbs the sunlight placed on the roof and converts it into heat. With help of a circulating pump, this heat passes into the storage tank. To control the temperature the thermal regulator is used that prevents the overheating & wastage of electricity. There are different types of collectors like Batch, Flat-plate, Evacuated tube collectors & Circulating pumps systems like Direct, Indirect, Active & Passive.
SOLAR WATER HEATER WORKING PRINCIPLE
Thermal Panel or Solar Collector which is installed on the roofs.
Tank used to store the hot water.
Circulating pump to carry the solar energy from the collector to the tank, and a thermal regulator.
Types of Regular Model in Thermal ( solar water heater )
ETC (Non Pressurised): The solar rays falling on the tube passes through the outer transparent tube and strikes the inner tube. It absorbs heat and transfers it to the cool water running down the tube. An evacuated tube technology-based solar water heating system is the most energy-efficient and cost-effective that is best suitable for home use.
Alpha Series (GI)_100 to 500 LPD 
Alpha – 1 Series (SS304)_100 to 500 LPD 
FPC (Non Pressurised): In FPC solar water heater, the solar radiation is absorbed by Flat Plate Collectors  which consist of an insulated outer metallic box covered on the top with a glass sheet. Blackened Metallic Absorber (Selectively Coated) Sheets With Built-In Channels Or Riser Tubes To Carry Water Are Located Inside. The absorber take in the solar rays and transfers the heat to the flowing water. A FPC technology-based solar water heater is the most energy-efficient and long life. Suitable for home use.
Beta Series (GI)_100 to 500 LPD 
Beta – 1 Series (SS304)_100 to 500 LPD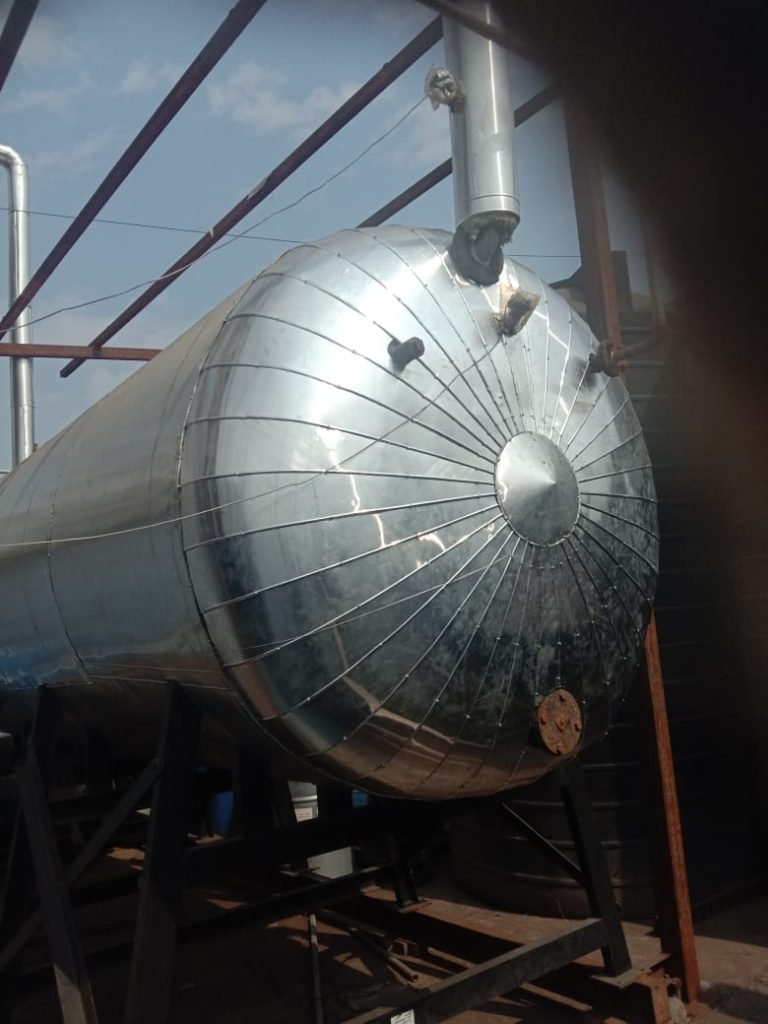 FPC (Pressurised)
Gamma Series (GI)_125 to 500 LPD 
Gamma – 1 Series (SS304)_125 to 500 LPD
KS Power- Alpha Model is designed with low price rates & the best quality of solar products everywhere in the country.
Characteristics
The Thermosyphon solar water heater is composed of the storage tank, supporting structures, Evacuated tubes, and installation parts.

It is the method of passive heat exchange, based on natural convection, which circulates a fluid without the necessity of a mechanical pump.

Natural convection of the liquid starts when heat transfer to the liquid gives rise to the temperature difference from one side of the loop to the other.

Multifunction: bathing, domestic and commercial use, etc.

IT could work at any time on sunny days.

With a KS POWER solar water heater, you become the owner of your energy system. You will enjoy low operational costs, be protected against any future energy price increase, and experience high comfort levels in your daily hot water consumption. 
Technical Credentials
Inner tank

: GI_2.5mm / SS304_0.6mm for up to 300LPD and 1mm for 500LPD

Outer tank

: Pre-coated Galvanized Iron Sheet 0.5mm                                               

Insulation

: High-Density Polyurethane Foam 50 mm thick with a density of 38 kg/cm3   

Vacuum tube

: 58*1800 mm / 58*2100 mm WITH SS-CU-ALN Coating 

No. of Vacuum Tubes

: 10 no's for 100 LPD

Absorber Area

: 1.6 Sq. M for 100 LPD

Bracket

: GI Press Tool Stand 1.6mm; 30-45 

C

°

Working pressure 

: Up to 0.5 kg/cm2 / Thermosyphon
Technical Credentials
Inner tank

  : GI_ 2.5MM or SS304_0.6MM FOR UPTO 300LPD and 500 LPD_1MM                                   

Outer tank   : Precoated Galvanized Iron Sheet                                                

Insulation

  : High Density Polyurethane Foam  with

50 mm thick with Density of 38 kg/cm3  

Bracket

  : GI Press Tool Stand 1.6mm; 30-45

O

W

orking pressure : Up to 0.5 kg/cm

2            

Flat Plate Collector: 2030 X 1030 X 95 mm

Collector type         : Copper (9 fins with absorber sheet

Collector frame made from weather-resistant aluminum

Absorber Coating : NALSUN Solar selective coating on copper (black chrome on copper with or without nickel undercoat)
DOWNLOAD SOLAR WATER HEATER CATALOGUE